Scott Equipment Company Value Added Services

Automation doesn't have to be complicated. Automation must be as simple as possible, flexible for future requirements, and dependable enough to keep production running around the clock. Automation isn't a part number or a single product, it is a group of products and solutions working together to accomplish a goal. Automation gives you a competitive advantage. Increased production, less downtime, higher quality, flexible systems, predictive intelligence, and safer machinery all set you apart from your competition.
Scott Equipment Company endeavors to help you gain that competitive advantage in your production or OEM machine. Your success is our success and that is our goal.
---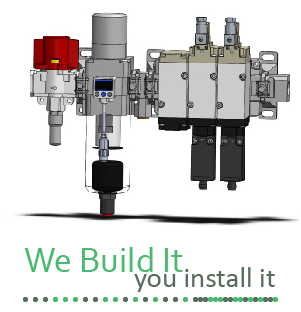 Sub-Assemblies
Our assembly services are available to provide integrated solutions utilizing the products we represent. These assemblies can range from simple to complex. With our experience in pneumatic, electrical and hydraulic components we can be a valuable resource for your sub-assembly needs.
Assembly Examples:
Pneumatic Valve Manifolds

Filter/Regulator Assemblies

Pneumatic Control Panels

Cylinder/Flow Control Assemblies

Pneumatic Fitting Installation

Electric Actuator/Gear Box/Servo Motor Assemblies
Kits
Eliminate transaction costs by requesting a kit. Instead of cutting a PO with 100 line items, receiving 100 line items, and reconciling an invoice of 100 line items, just buy one part number. Per your specifications, we will package, label and ship kits of products under a single part number.
---
Collaborative Robot Solutions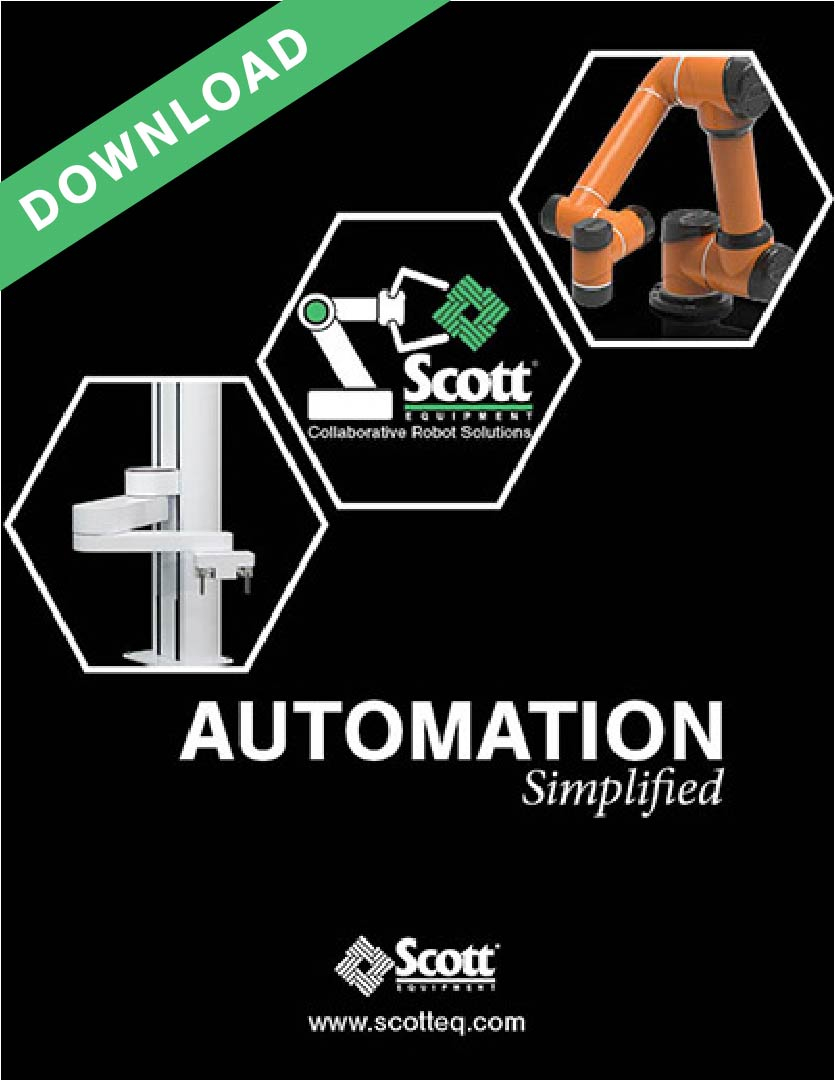 Scott Equipment Company Collaborative Robot Solutions department exists to help you solve your automation challenges with leading edge collaborative robots from Aubo Robotics and Precise Automation. Whether you want to automate a simple, repeatable task or need a flexible, intelligent system, Scott Equipment Company has the expertise to help develop a solution for your collaborative robot application.
Scott Equipment Company has partnered with the biggest names in the robots industry to provide a wide range of reliable solutions. We offer multiple robot types along with unique accessory solutions to solve your tough tooling and sensing challenges. Melding the flexibility of the robot lines we represent, with our vast catalog of vendors, we can support projects ranging from simple box pick and place with vacuum or electric grippers from companies like Joulin, Schunk CAP, and Robotiq, or as advanced as 3D Bin picking and part inspection with camera systems from Pickit3D and other vendors.
We also have the ability to call on the experience of our in-house engineering staff and our robot solutions department to help with designing any custom solutions you might need as well, from designing a custom base, to an entire end of arm tooling solution. We can also answer most programming questions in a fraction of the time it would take to find it in the manual.
---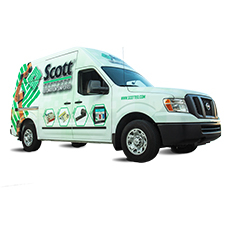 Demonstration Van
Scott Equipment Company has a demonstration van loaded with Aubo and Precise Automation collaborative robots, interactive actuator demonstrations from SMC, Tolomatic, Linmot and more. We also have vendor demo boards highlighting vendor products that we can adapt for your specific visit.
The great thing about our demo van is that we can (and want) to bring the product demos to you. And the process is easy; contact your local Account Manager or email sales@scotteq.com to schedule a demo van visit.
---
Training (Virtual Webinars, Parking Lot Demos, Lunch and Learns)

One of the major goals of Scott Equipment Company is to introduce and educate our customers. Scott Equipment Company takes pride in helping our customers by introducing up and coming trends like I/O Link, wireless communication, or Industry 4.0. Our experienced team can help you correctly size pneumatic cylinders, design a valve circuit, learn to program a collaborative robot and choose the appropriate end of arm tooling device for the robot. And if you have an electrical actuator project, we can help you decide on the appropriate motor, gearbox and actuator combination to make your application work they way you want it to.

Let us know what topic you would like to review, when the best time to meet and we will cater to your needs. Our goal is to help you reduce the stresses involved with making important decisions and by working with our industry knowledge experts, we can make that happen.
---
Scott Equipment Company Case Studies