Services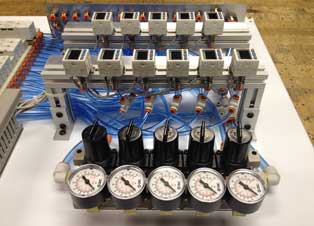 Air bag control with high and low pressure monitoring
Sub-Assemblies
Our assembly services are available to provide integrated solutions utilizing the products we represent. These assemblies can range from simple to complex. With our experience in pneumatic and electrical components, we can be a valuable resource for your sub-assembly needs.
Kits
Eliminate transaction costs by requesting a kit. Instead of cutting a PO with 100 line items, receiving 100 line items, and reconciling an invoice of 100 line items, just buy one part number. Per your specifications, we will package, label and ship kits of products under a single part number.
Specials
We have over 12,000 basic products as a starting point for developing specials. Specials can be developed for high volume or low volume applications. Let us know your requirements and we will work to develop a solution.
Custom Pneumatic Valve Manifolds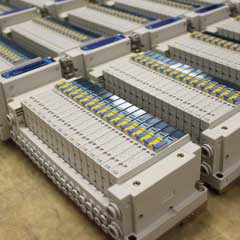 SMC SY3000 Manifolds
with EX260 EthernetIP Bus Heads.
We can design and build a pneumatic manifold to your specifications. Custom solutions are no problem. Let us know your specifications and we will build a manifold for your application.
Custom Air-Prep Assemblies
Need a complete air preperation assembly per your specification? We build them every day. Let us know your requirements and we will design and build an air preparation assembly to meet your needs.
Hose Assemblies
Hose assemblies per your specifications. We can build many types of custom hose assemblies ranging from hydraulic hose assemblies to flexible metal hose assemblies. Let us know your specifications and we will design and build a hose assembly to meet your needs