Schedule a Collaborative Robot Demo Today
Fill out the form on this page or email Robots@scotteq.com to schedule a live robot demonstration.
Quickly learn the following about the robots:
Which robot is best for your environment and why
How to Program the Robots
End of Arm Tooling Solutions
Once you fill out the form or contact Scott Equipment, we will follow up with you as soon as we can to discuss the best time to schedule your demo. Be sure to ask us about our upcoming robot classes! We are scheduling classes to provide our customers in-depth training on how to best implement robots in their current production facility.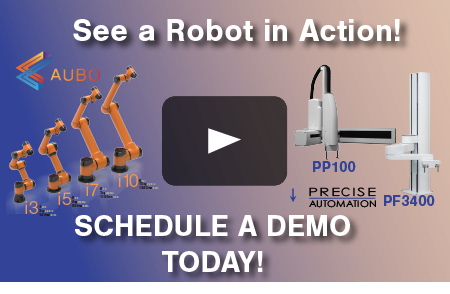 More about Aubo Robotics
AUBO Robotics collaborative robot (Cobot) AUBO-series are six-axis, 3, 5, 7, and 10 Kg payload with 625 to 1350 mm reach lightweight industrial robots made for human-centric agile manufacturing. These four collaborative robots are also known as Cobots, it can work closely within a human work-space without safety equipment, depending on a risk assessment. It is user-friendly, flexible, low cost and very easy to move, re-deploy and can be plugged into a regular 110 – 230 VAC wall socket to run. No programming skills are needed to set up through hand guiding and have the robot running in various high mix or short run applications. AUBO robots have a small footprint which offers a huge benefit for any size company's production costs due to floor space floor space premium cost. AUBO Robotics help companies gain a competitive advantage in a manufacturing environment while reducing dangerous and repetitive tasks performed by workers
More about Precise Automation
Precise Automation is known for their PF3400 robot, which is considered one theworld's fastest/safest collaborative robot. Precise Automation makes 3 versions of their robots, a SCARA, a Cartesian and a 6-axis robot.
Precise Automation robots are a new generation of collaborative robots that focus on built-in safety and ease-of-use (easily programmed). These robots are safe to use without shielding, which permits the robots to be deployed more easily and in environments where space and access to the the workcell while the robot is operating.