As our population grows older, it requires more healthcare resources. As a result, the medical field must adapt to be able to provide the resources in a timely method. Waiting long periods to get test results back or develop new remedies isn't good policy for family members waiting for and wanting solutions.
As of today, people that are 60 and older require three-to-five times the healthcare services that younger generations require. As this segment of our population grows and requires more of our healthcare resources, the volume of clinical and diagnostic testing is increasing exponentially and placing new demands on laboratories to deliver quick test results and new drugs to fight current and new illnesses.
This is why automation has become very important in the Life Sciences field. Automation is no longer something to wish for, but has become a necessity. The use of robots like those designed by Precise Automation, offer the promise of increased efficiencies, improved throughput times, and reduced costs. In addition, robots hope to eliminate the possibility of human error, increase reproducibility and accuracy in obtaining scientific data. Another benefit of automation in the lab is that it allows for drug discovery processes to be run around the clock. No longer does a technician have to perform tests manually, 24 hours a day.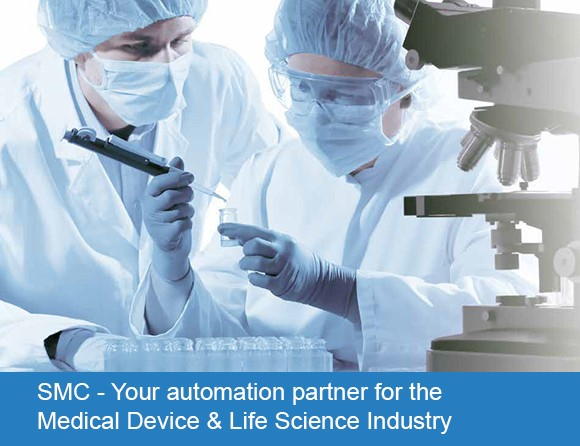 Improving Technology
Motor enhancements have allowed for faster throughput. Stepper motors have long been the main choice of motion, but as servo motors become smaller, faster and more accurate, they are becoming the main source of motion. In addition to the motors, more life science automation machine manufacturers are replacing mechanical drive trains with linear actuators that are designed for higher speeds, more accuracy, lower maintenance and downtime and an overall longer life span. To put this into perspective, newer centrifuges and lab instruments requiring a small footprint use these small compact machine parts that are built into the machine.
As the load on laboratories increases meaning they are required to do more and more testing, space in the lab becomes a premium consideration and cost. With the new technologies, manufacturers like Precise Automation and AUBO Robotics are able to make smaller robots that take up less room. Manufacturers like SMC and Tolomatic are making smaller and faster components for lab automation equipment to aid in the design and development of smaller lab equipment.
Automation Reduces Costs
Another exciting benefit of automation in Life Sciences is that it is actually reducing the costs of medical healthcare. Personalized Medicine is a new buzzword in the industry that is defined as a medical model that proposes the customization of healthcare – with medical decisions, practices, and/or products being tailored to the individual patient. Using automation, the costs of testing has continued to drop. For example, sequencing an individual's genetic code is part of personalized medicine and automation has allowed the cost of sequencing a person's genetic code can now be done for approximately $1000. Genetic sequencing allows doctors to get a better perspective on the patient's overall health and allows them to make better decisions on what kinds of drugs and therapies will work best for them.
What's the Future?
According to a report by MarketWatch, the lab automation market was estimated at $3.8 billion in 2017 and is expected to reach $7.08 billion by 2026. This growth is happening because biology is moving in a direction where bench and hands-on activities are generating a large amount of complex data, requiring even larger amounts of analysis and bioinformatics. Automating these complex, repetitive and manual tasks allows scientists to focus on more valuable work such as data analysis, while simultaneously improving the quality of results.
To meet this demand, companies like Precise Automation and Aubo Robotics are designing their robots to be easy to use, program, have a small footprint and are collaborative – meaning they can work next to a human without causing physical harm. Companies like SMC and Tolomatic are building smaller, faster and more accurate components for almost any device used in a lab.
Next Steps
If you're a lab specialist in Virginia, North or South Carolina looking for a robotic automation solution, click here to schedule a robot demonstration.
If you're a lab automation machine builder, visit our website to find the components you need for your machine. You can also fill out the form below to have one of our product specialists contact you or feel free to call us at 1-800-222-2903. We enjoy the opportunity to talk to you and learn more about your application.